Welcome to our
BOORMAN FAMILY WEBSITE
This site has been created so we can stay in touch
and share information with our family and friends.
Our main focus is on genealogy,
our blog on family history and research,
a few featured photos,
and a link to Terry's walking group site.
From summaries and photos of our 4 main family trees:
BOORMAN~ THOMAS ~ ANDREW ~ HENSON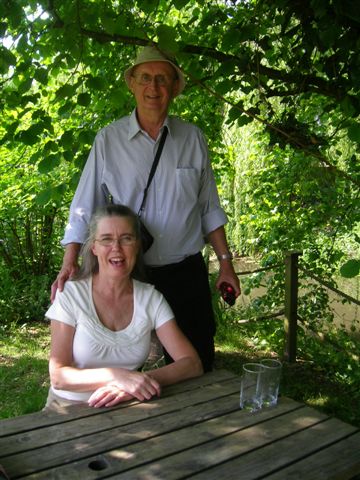 Terry and Claudia Boorman
in the garden of a riverside pub near Great Wishford
on their first trip to England, May - June, 2012

We hope you enjoy your visit here!
FEATURED FAVORITE FOTO
Claudia loves to take photos with her aging Canon Powershot SX20IS camera.
Here is one of her recent favorite pics.


FIRST NATIONS SCUPTURE - OAK BAY, BC - 15 JAN 2019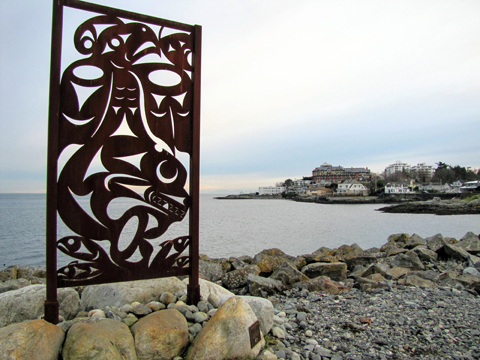 The Oak Bay Municipality in the Great Victoria area sits on the south eastern tip of Vancouver Island in BC Canada. This affluent area of the city is blessed with miles of scenic waterfront. On this nippy day in mid-January, with the sun peaking through the high clouds, we decided to take a short walk along Oak Bay Avenue, and then head over to the waterfront on Beach Drive. There was a cool breeze blowing off the water, but it's always a delight to view all the boats moored in Oak Bay Marina, and the beautiful buildings and scenery along the waterfront.
Oak Bay Marina sits in the shelter of Turkey Head and its Breakerwater, with much of Turkey Head used as the marina parking lot and walkway. On the south-eastern edge of this parking lot we admired a 2D First Nations sculpture named "Salish Sea" by Coast Salish artist Chris Paul. And in the backgroud further along the shore we could see prime Oak Bay real estate including the rebuilt Oak Bay Beach Hotel.
According to an article published in Oak Bay News on Aug 18 2015 - "Sculpture donation a tribute to beloved son" this Salish Sea sculpture was originally installed at this location in 2014 as part of a program where artists loaned works to display in Oak Bay. Then in 2015 it was purchased in part by donations from a generous private citizen. It was Oak Bay's first publicly-owned piece of fine art. This grew into the "ArtsAlive" program that now showcases quite a number of amazing art pieces that are put on display in different locations around Oak Bay each year. We saw some of their more recent scultptures on this walk.
View more of Claudia's Oak Bay pictures taken that day.
Previously featured photos can be viewed on our photos page.