Welcome to our
BOORMAN FAMILY WEBSITE
This site has been created so we can stay in touch
and share information with our family and friends.
Our main focus is on genealogy,
our blog on family history and research,
a few featured photos,
and a link to Terry's walking group site.
From summaries and photos of our 4 main family trees:
BOORMAN~ THOMAS ~ ANDREW ~ HENSON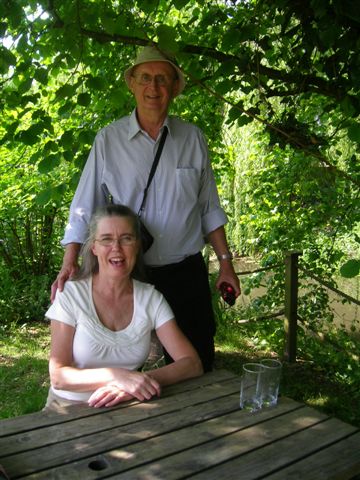 Terry and Claudia Boorman
in the garden of a riverside pub near Great Wishford
on their first trip to England, May - June, 2012

We hope you enjoy your visit here!
FEATURED FAVORITE FOTO
Claudia loves to take photos with her aging Canon Powershot SX20IS camera.
Here is one of her recent favorite pics.


FOG ON THE GOLDSTREAM ESTUARY, VICTORIA BC - 22 NOV 2017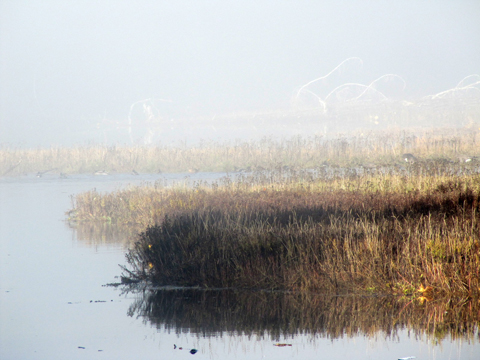 It was a beautiful day for a walk in Goldstream Park a short distance northeast of Victoria BC with Terry's walking group. The sun was shining, backlighting the dangling moss on the tree limbs. We viewed the spawning salmon in the river, and walked along the riverside trail to the nature house, admiring the huge evergreen trees in the shadow of Mt Finlayson that make the scenery here so spectacular.
The nature house sits close to the estuary, where fog covered part of the water and hills. The wind was also calm, allowing amazing reflections in the water. The sun, combined with areas of fog, made it look like some of the marshy islands were floating on the water. We spied at least 7 bald-headed eagles, on hand for the salmon run.
There were a number of school groups on site for an education field trip, learning about the wild life and the diverse ecosystem in this special park.
For more pictures taken that day in Goldstream Park, visit Terry's previous walking group webite at http://camramblerswalkinggroup.weebly.com/2017-5.html and scroll down to walk #297.
Previously featured photos can be viewed on our photos page.